I have been getting a bit fed up with getting 40L of Diesel from my friend to run the central heating boiler (
Mikuni
) so I ordered a full tank full 600L.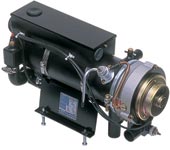 I need to fuel it up at some point and while its on dry land its better just in case there is a leak.
I was confident it was going to be fine because of the pressure tests and it was. So once full I was able to calibrate the fuel gauge.
During the Christmas brake I finally found where the leaking water from the toilet tank was coming from. Turned out to be from the hose where it connects to the pump out pump. The jubilee clips couldn't put on enough force to squash the hose down so I fitted so I solved the problem with Superclamps
These were able to overcome the steel spiral reinforcing in the hose.
Over the Christmas break I was able to get some more oak trim up as well but eventually ran out of adhesive. So I gave in and had a bit of time off.